NEWS ARCHIVE 2016-2018 / 2015 / 2014 / 2013 / 2012 / 2005 – 2011
OUR BODYPAINTINGS SHOW ARTISTICALLY DECORATED, COLORFUL, UNDRESSED BODIES: IF YOU ARE BELOW 18 OR HAVE ANY ISSUES

WITH THAT – PLEASE EXIT FROM THIS PAGE
---
2017 – 2018
GERMAN NEWS ARCHIVE
Currently we do not update the NEWS ARCHIVE on coloured-dreams.com.
If you are interested in our art and like to see more new works, please visit
the NEWS / ARCHIV on our german Website
farbtraeume.com
with many
photos.
---
---
---
News Archive 2016 – 2018

Here we present the News about
our Face-, Bodypainting- and
artistic projects in 2016. Older
"News" you find in the right column.
If you like to see photos of our freshest
works, please visit the NEWS ARCHIVE of our german website.

Our Bellypainting of the month: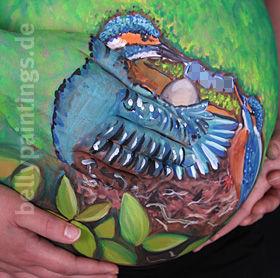 More Bellypaintings:
bellypaintings.de